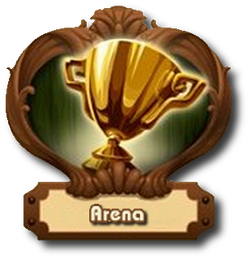 Welcome to the Blacksmith Kingdom Arena!
In this section of the game, you are going
to pit your skills, tools, and materials against
the rest of the My Weapon Shop community
in an effort to see who is the best blacksmith
in the kingdom.
Participation in the arena will award fabulous prizes
so fire up those forges and get those hammers ready
as you compete for fame, glory and treasure!
Objectives
Edit
Each Arena competition takes place over 3 days, challenging competitors
to craft the best weapon they can that falls under the competition's
theme. (I.E. if the theme is Swords, then you need to make the best
sword weapon you can).
You are allowed to use up to 5 materials in the creation of your weapon.
The weapon you forge is scored in two areas.
The first area is based on the weapon type that you made. Did you make a
weapon that coincides with the competitions theme, (if you didn't you will
get a 0 in this score part no matter what tier weapon you made) and what
tier weapon did you make. A tier 10 weapon will provide a higher score than
a tier 1 weapon.
The second area that your weapon is scored on is its secondary attributes.
You are only allowed to enter one score per day (though you are allowed
to reset your score and try again for a price). You ranking in the competition
is based off the combination of all your weapon scores.
*Special Note*  You should always, always, ALWAYS enter the arena, even if
you can't make the weapon type that coincides with the competiton's theme, even
with a low ranking you'll still walk away with a few gems and  materials.  Also, if you
hate the arena, you should still check the results every three days.  Even if you don't
enter a single weapon, you will still be rewarded with at least 1 gem and with the new
coin rewards they added you could walk away very rich.
 Free gems, items and a chance at lots of coins is a great thing, so always check
the arena page, even if you don't plan on participating.
Competition RanksEdit
The competitions are broken up into level ranks, so as a
low level player you won't have to worry about competing
against the high level players.
Competition Ranks:
Arena SectionsEdit
The arena competition is broken up into 3 sections,
essentially being 3 different competitions that take
place over a 3 day period and each with their own
rewards.
Forging SectionEdit
The Forging section is where you will make weapons and
compete against other players. Players are divided up
into different ranks based about the fame level.
Income SectionEdit
The Income Section pits players against one another in a
competition to see who can earn the most amount of Coins
within each 3 day competition. Players are divided up into the
same ranks as the forging section.
Rich SectionEdit
The Rich Section pits players against one another in a
competition to see who is the richest player at the end
of each 3 day competition. Players are divided up into the
same ranks as the forging section.
Rich Men's Tributes
Edit
"With the great efforts of all shop owners and braves in the kingdom,
Blacksmith has built up the most stable trading environment. The rich
men who have accumulated a great deal of wealth through business trading
have decided to share extra arena bonus with the smiths to experience the
prosperity and stability ever!
As from today in the forging arena, those who rank
10th, 20th, 30th, 40th, 50th, 60, 70th, 80th and 90th
will receive an extra 500,000 coins;
those who rank 100th, 200th, 300th, 400th and 500th
will receive an extra 200,000 coins.
Dear owners, don't miss out this great opportunity to gain extra coins!"
---
Ad blocker interference detected!
Wikia is a free-to-use site that makes money from advertising. We have a modified experience for viewers using ad blockers

Wikia is not accessible if you've made further modifications. Remove the custom ad blocker rule(s) and the page will load as expected.